«tschou Zäme»
BELLA FARNY presents herself for the first time with "TSCHOU ZÄME" on pokert.tv.
An online TV show with her own songs and various guests from the music & showbiz.
Interviews, live music, dance and everything that makes fun.
More refreshing than a summer spritzer !
---
---
---
BELLA FARNY & LARRY WOODLEY LIVE AT RADIO LIECHTENSTEIN
"INTERVIEW AND MUSIC"
Very moving – romantic and also many entertaining moments! Here is the Radio LIVE concert of Bella Farny and Larry Woodley from Schellenberg
Corona News!!!
In the waiting time I wrote down my thoughts in a song and put it online for you.
Bella Farny – I bruche Zyt & Go and Change | Stars@Home | Ticketcorner
Bern in the heart, the world underfoot: Bella Farny plays concerts on and far away from the European mainland. 🌎❤️ Whether dialect or English – as a jack-of-all-trades in music, dance, singing and acting, the stage is her home. 🎵
---
Music Cabaret «GESACK & RADAU»
next performance,  Mimos Zurich 
May 23 .2019, time 20.00 
Tickets: 25,- CHF/20,- CHF (reduced)
box office from 19.00 o'clock
Buy Tickets
With "Gesack & Radau" Bella Farny travels the world, but: sitting down and listening in between is allowed and desired. In her luggage she has stories from on the way, but above all timeless humorous songs from here and there, then and today, from well-known songwriters and songwriters from the border triangle – and from her own composition workshop.
A solo evening full of exuberant versatility.
Bella Farny
---
---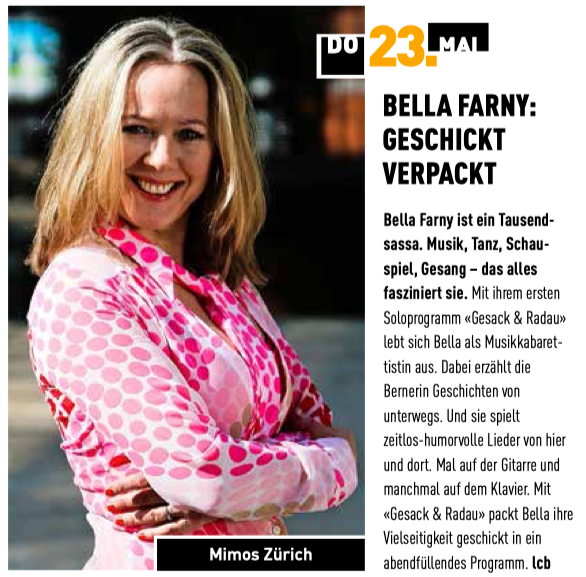 My performance by FL1Life Contest
Three songs packed in 10 minutes. Musically I was accompanied  by Benjtaro. Take your time and enjoy the beautiful atmosphare.
«Go And Change»,
«Happy Teardrops»,
«I Bruche Zyt»
Yeah, I've made it among the first four ranks.

---
Check out the finalists!
---
Merrily I proceed into the next round,
On 12 May 2017, I will be on the stage at the FL1.LIFE contest finals and will fight for an appearance at the FL1.LIFE on Fri 07 July 2017 as well as the prize money of CHF 2`000.-.
Check out the FL1 News!
---
Events
I m looking forward to see you. Be surprised by one of my life events.
Events
---
Date
City
Venue
15.06.19
Zeuthen
Gemeinde Zeuthen

Time:

3:00pm.

OPEN AIR zum zehn jährigen Jubiläum der Schwesterngemeinden Zeuthen (DE) – Interlaken (CH) mit Bella Fahrny's Musikkabarett «GESACK & RADAU» als Ehrengast ausführliche Details folgen noch …

23.05.19
Zürich, Schweiz
MIMOS soziales kunst kultur

Time:

8:00pm.

Admission:

25 CHF / ermässigt 20 CHF.

Box office:

+41 79 424 67 76.

Address:

Kornhausstrasse 18.

Bella Farny. Musikkabarett Gesack & Radau Bella Farny verpackt ihre übersprudelnde Vielseitigkeit in einen Soloabend, bei dem neben eigenen Texten und Melodien auch Lieder von Polo Hofer, Mani Matter, Cissy Kraner, Fifi Brix, Hanne Wieder u.a. zu Gehör gebracht werden.
Balcony Tv Check out my Video
BELLA FARNY performs the song "I BRUCHE ZYT" from her EP
Watch at Balcony-Tv
---
---
was a cool session….

Thanks to the BalconyTV Team

Song
"The Boots Are Made For Walkin"
in Liechtensteinisch
music video release
"Time For Myself"
It was a great sucssess
On the 6 February 15, I was presenting for the 1st time my music video « Time For Myself -I Bruche Zyt» at the Perron 9 in Zurich Oerlikon. A part of the project was realized through crowdfunding wemakeit.
I got supported by the musicians: Hani Ali and Rolf Sommer Grimaldi.
The premiere was a great sucssesss ! Thanks for that ! Bella
Bella Farny
Bella has released her debut EP-CD
«I Bruche Zyt-Time For Myself»
She is composer and performer of this exciting and introspective new EP edition.
more